Let's assume you want to know you're looking for information relating to management in healthcare settings. We're going to use subject headings to do this.
First, break up your question into concepts: healthcare AND management
In the CINAHL database, type healthcare into the search box, and tick the Suggest Subject Terms box above that.
Now press Search, and you will be taken to the CINAHL Subject Headings page: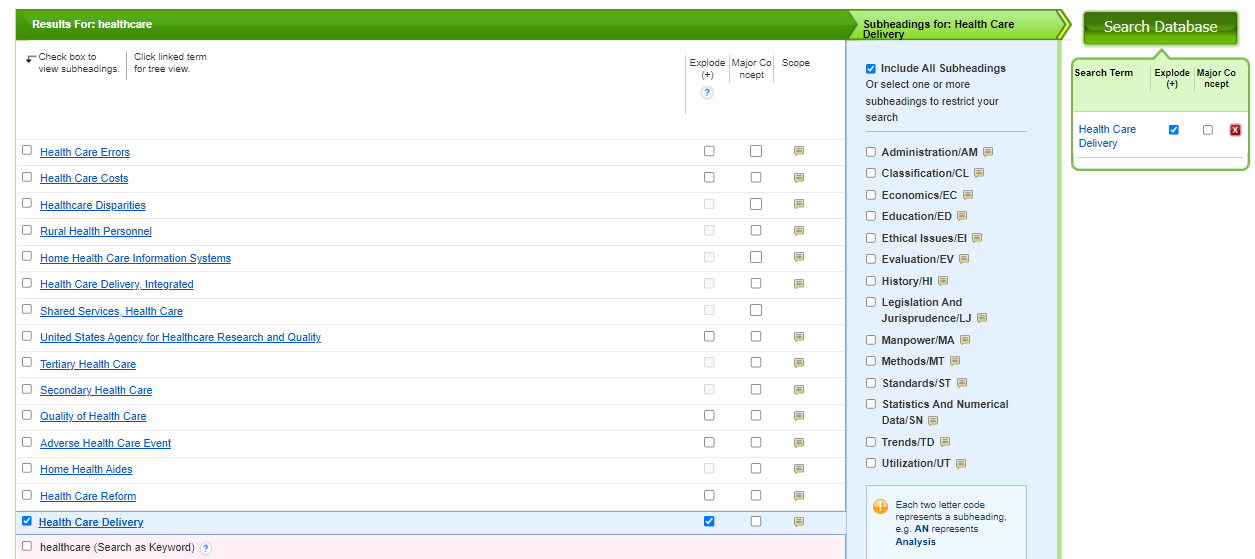 In this case you can see that the term you chose to search for maps to a number of suggested CINAHL subject heading, including Health Care Delivery (Tip: check the Scope Note for information relating to each suggested term/phrase). Tick the box next to that (or one of the other options). You can then choose to tick Explode (this expands your search to include all appropriate narrower terms) or Major Concept (which narrows your search to only articles where that term is considered a major topic). You then have a list of possible subheadings you can apply. (A good rule of thumb is to start your search fairly broadly and not use those subheadings unless they happen to be exactly what you're looking for.
Here we have chosen to explode the subject heading and choose no sub-headings. Now press Search on the right.
You can see that there are hundreds of thousands of results, because we've found every article indexed in CINAHL about healthcare.
HINT: Always clear the search terms already in the first search box before looking for a new term. Once you start combining terms it will be messy if you forget to do this. Another handy tip is to press Search History under the three search boxes and you can follow your progress.
Now to start searching for your second concept. Tick Suggest Subject Terms, and type management into the search box and click Search.
Again, you'll arrive at the CINAHL subject headings page:
Select the most appropriate option (I've chosen to explode my search to include all relevant narrower subject terms), and hit Search.
After running two or more Suggest Subject Term searches, you can then combine those searches/concepts. Expand your search history, which sits just below the search boxes, select the searches you would like to combine and click Search with AND:

Now there's a much more reasonable number of results, which you can filter down the left hand side using Refine Results, or alternatively, click the Edit button next to the number of results in your final combination.
Look at the HTML and PDF links to access the full text of the article. Hint: If you cannot find a link to the full text of an article it is most likely in another database and can be found with just a couple more clicks by following the Find it at CSU link.