Use the Impact form to record each Research Impact.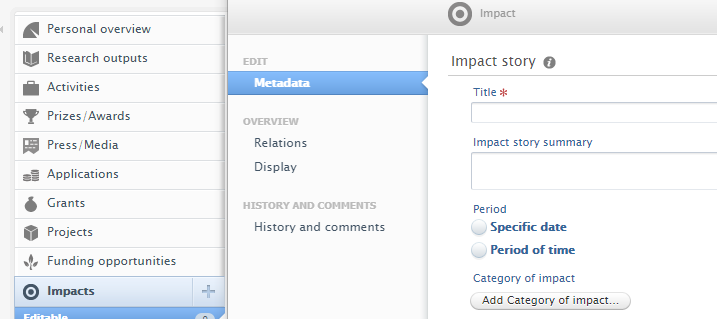 Impact Story Summary
Record a narrative of your research Impact in the Impact Story Summary. Your narrative can include information about your presentations at public forums or your engagement with Government, policy makers or professionals. You could include details of the audience, such as numbers of participants or their level of importance.
Add Category of Impact
Note: this selection is important to define the type of impact your research has had.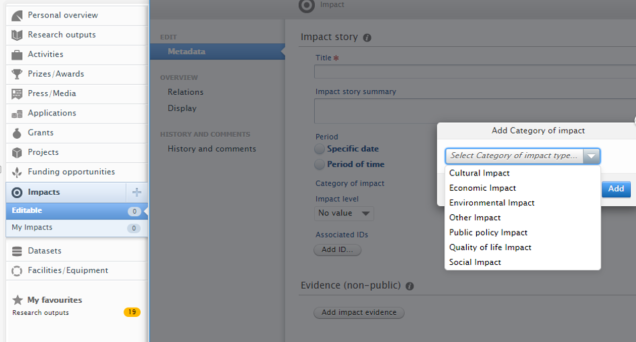 Non Public Evidence of Impact.
It is important to include impact evidence. In this case it will not be shown to the public.
Country of Impact, Publicly available Evidence and Relationship to your Research Outputs
It is important to add to your impact story how your research has had impact or influence in other countries, and how it relates to your Research outputs. Use the options here to add this information. You should show some evidence of this, which will be on public display in CRO.
Visibility and Restrictions
You can choose to make your CRO records visible on your public profile, or not. Select Visibility to set these status's
Saving your Impact Narrative
After you save the record, your narrative will be set to For Approval. It will be reviewed by the Office of Research Services and Graduate Studies. They will then change it to Approved. the record will then be made visible in CRO.
Updating or editing an Impact Narrative
If you need to update or edit one of your Activities, you will need to contact the CRO team in the Office of Research Services and Graduate Studies. They will change the record back to 'For Approval" allowing you to open and edit your Narrative.