In Charles Sturt University Library's Primo search, type in one of the keywords or phrase. For example, marketing strategy.
You would have received an extremely large amount of results.
Go to the ADVANCED SEARCH , found on the right of the search bar.
In the next search bar, enter another keyword or phrase.
Select + ADD A NEW LINE to add more keywords.
Each keyword or concept should have its own line.
Do not add more than 3 keywords or phrase at a time.
You may will still retrieve a large number of resources but it would not be as large as the first search.
Now, you can start refining the results.
On the left side of the screen, you can refine your search by availability, resource type, date, topic, author, journal and database.
Always refine your results to Available online (under show only) and by date .
If you need an eBook, apply the filter Books (under resource type).
If you need a peer-reviewed article apply the filter Articles (under resource type) and Peer-reviewed Journals (under show only).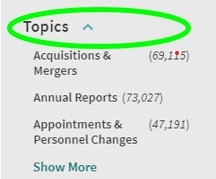 Limit the search by Topics if there are too many results.
No more than 2 topic filters should be used at the same time.
You can always remove the filter by clicking the X next to it.
Click Show More to see all the resources available.
Open the citation by clicking on the title. Read the Description to determine its relevance to you. This is known as the abstract.(this is a short summary of what the resource is about).
Once you find a relevant resource, open the link (under View Online). You may be asked to sign in using the Interact2 login.
If it is not exactly what you are looking for, close the record, and go to the next one.
Don't forget you can cancel and change the filters. You can also change the keywords.